Fun Things To See And Do In The Tehachapi Area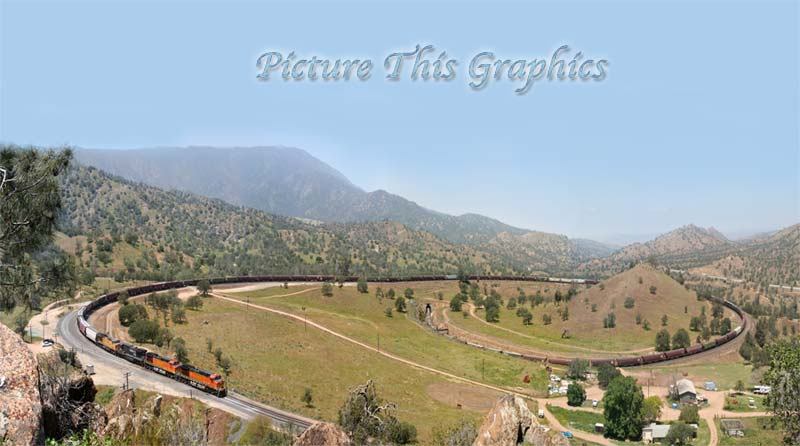 The Tehachapi Loop


The ringing sounds of the hammer pounding in the Golden Spike in Promontory, Utah May 10, 1869 connecting the east and west coasts by railroad had barely faded. Railroads were changing America faster than anyone thought possible. It was now common to make a trip across country in mere days that a couple years ago would have taken months.
In the early 1870's the Southern Pacific (Central Pacific) railroad wanted to link their rails in San Francisco with those in Southern California. After checking all options, it was felt the best route would be Bakersfield to Mojave and on to Los Angeles, this meant crossing the 4,065 foot high Tehachapi Summit pass.

Construction from Bakersfield to Caliente went smoothly, but from there to the summit (Tehachapi) the elevation rose 2,735 feet in just 28 miles. With the maximum permitted 2.2% grade and routing the tracks along the Tehachapi foothills, all seemed to be progressing well. However, just east of Keene, seemingly unsolvable problems arose. By conventional designs, they were stopped by a nearly 80 foot increase in elevation.

According to legend, Mr. William Hood was inspired to build a loop after watching a boy and his donkey climb a path of least resistance up a hill. After surveying a downhill right of way, Mr. Hood plotted a unique loop. Going southeasterly from Keene, a train first passes through an entry tunnel. The track then does a complete counterclockwise loop measuring 3,799 feet in length with a typical diameter of 1210 feet. By continuing to gain elevation throughout the loop, engineer Hood was able to gain the needed 77 feet allowing him to reach the summit July 10, 1876.

In addition to the loop, there are 18 tunnels with a total length of 8,240 feet, 8,300 degrees of rotation as the track twists and turns through and along the mountains from Caliente to Tehachapi over 16 miles. With modern freight trains often more than a mile long, the locomotive passes over (or under depending on direction) the final cars of it's own train!
The construction of this monument was undertaken by American engineers and Chinese workman mostly recruited from the Canton area. Using picks, shovels, and dynamite, many workmen were killed during the dangerous work, carving 22 foot high by 16 1/2 foot wide tunnels through which the trains would run.

To view the Tehachapi Loop, take the Keene exit off California State Highway 58. Follow the sign pointing to Tehachapi Loop, it's about a 3 mile drive along a winding, paved road. On the left side you will see 2 monuments, just past them you will see a small turnout with a narrow foot trail leading out to a primitive viewing area. Roughly 40 trains per day pass through the loop, be prepared to wait a while as there is no guarantee of railroad traffic frequency.
©2006 Picture This Graphics (808) 936-3686.
A Special offer for that hard to buy for special train fan in your life.
The Tehachapi Loop Picture is printed in full color on 100# gloss book stock in
incredible detail. From lizards on the rocks to horses in the field below to counting
train engines, cars and rail ties, this is one of the finest most detailed prints available for
purchase anywhere in the world. These are limited edition prints, only 1000 were made
and 100 were destroyed in a shipping mishap leaving only 900 prints available. They are
selling fast and will not be reprinted and supplies are limited to remaining stock on hand.
Rail fans from Switzerland, Italy, Germany and Australia have also purchased these prints.
18" x 34" Prints on 100# Gloss Book Paper are available for only $15.00 plus $6.00 shipping.

Email for more information: Special Loop Products